Tuesday, February 1, 2022 / by Megan Davis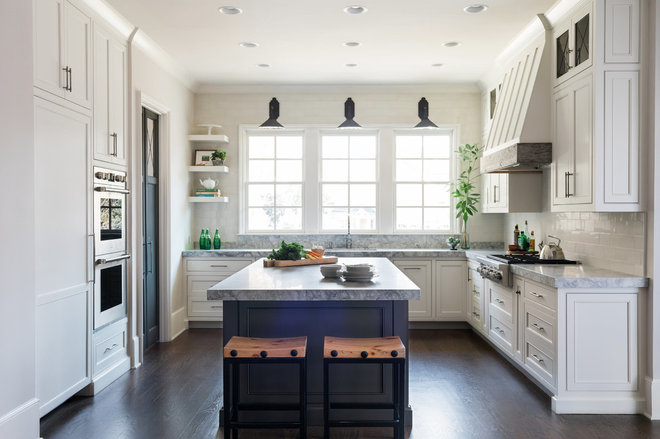 1. Freezer Drawers + Microwave Drawer
Designer: Emily Karempelis of EK Interiors
Location: Atlanta
Size: About 365 square feet (33.9 square meters)Homeowners' request. Replace a small, narrow island with a larger one with more workspace and better storage.


Island. "Given that we were a bit limited with wall space for large appliances, we worked a set of freezer drawers into the island, across from the full-sized Sub-Zero refrigerator column," designer Emily Karempelis says. "This prevented us from having to step up the overall width of a refrigerator-freezer combination unit." There's also a microwave drawer, placed in the island to keep the look of the kitchen streamlined and to have it near the pantry and refrigerator.

Other special features. Recessed appliances that sit flush with cabinets. Wall-mounted sconces over the sink. Walk-in pantry. Reclaimed-barn-wood accent on range hood.Designer secret. "As a designer, I am always looking to create balance and symmetry," Karempelis says. "In this case, we were a bit landlocked, and recessing the appliances into the wall threw off the centerline of the island and the kitchen sink. Instead of drawing attention to this by adding pendant lights over the island, we instead kept can lighting in the kitchen and used some fun wall-mounted sconces over the kitchen window to draw your eyes through the kitchen space while also providing additional lighting for one of the main working surfaces in the kitchen."

"Uh-oh" moment. "One of the final steps in a kitchen renovation is to install the appliance panels," Karempelis says. "When it came time to do this, the panels that we had were not the correct size to fit the appliances. We knew we had to get the team on-site to come up with a solution. We took a step back and evaluated what had happened. We had a great team of contractors and subs working on this project, and we came together with a solution to get them right. While this part of the project got pushed back a few days, other aspects of the job were able to continue moving forward, and in the end everything turned out right."

Contractor: New Rosslyn Construction; cabinets: Cabinet Resources; cabinet finishing: DeHuelbes Designs; appliances: Sub-Zero and Wolf; tile: Builders Floor Covering & Tile; countertops: AGM Imports; countertop installation: Inman Park Marble & Granite; hardware: Masterpiece Lighting; sconces: EK Interiors; plumbing: Waterstone Faucets; photography: Rustic White Photography


2. Add-On Storage Cabinet

Designer: Rachel Koepke of Rafterhouse
Location: Scottsdale, Arizona
Size: About 245 square feet (22.7 square meters)Homeowners' request. For this spec-home kitchen, designer Rachel Koepke says she wanted "an open floor plan with the right balance of contrast and texture to make it feel warm and inviting."


Island.
The end-of-island accent piece is a fun "touch of the unexpected," Koepke says. The piece also adds extra countertop space for chopping and other food prep. The drawers are decorative false fronts. Each stack of four false drawers forms a vertical door; each pair of doors opens to a cabinet with adjustable shelves.
Other special features.
Custom zinc range hood. Locally sourced reclaimed-barn-wood beams.
Designer secret.
"The perfect balance of textures in this space really is the goal I wanted to achieve," Koepke says. "With modern farmhouse in mind, I wanted to mix crisp and clean elements, such as the smooth white cabinetry and sleek quartz countertops, against the raw metal from the hood and [the] roughness that the barn-wood beams and wood floors give off. Add some fun industrial-style lighting and cabinet hardware, a little touch of the unexpected, and you have the recipe to a perfect modern-farmhouse kitchen."
Island accent piece: Brothers Woodworking/Old Sol Lumber; Indian premium Black Satin granite perimeter countertops: Arizona Tile; island countertop in Calacatta Nuvo: Caesarstone; cabinetry: Crown Cabinetry; Build Brick ceramic backsplash tile in white gloss: Kaiser Tile; light fixtures: Shades of Light; cabinet hardware: Top Knobs; custom range hood and barn-wood beams: Porter Barnwood; Fossil wall paint: Dunn-Edwards Paints; furniture staging: Modern Manor
See more of this home
3. Range With Ceiling-Mounted Vent + Microwave Designers:
John Davies and John Ryan of Marrokal Design & Remodeling
Location:
San Diego
Homeowners' request.
A kitchen fit for entertaining, with more openness between it and the living and dining areas.
Island.
A ceiling-mounted range hood allows for the range to be placed in the 48-by-120-inch island, preventing the visual impediment of a bulky range hood hanging down and letting the homeowners face guests or other family members while cooking. The island also holds the microwave on the end for a cleaner look along the perimeter cabinets and countertops.
Ceiling-mounted range hood: Best; alder wood cabinets in Artesian style with full overlay in custom stain 76: Imperial Cabinets; Aequa Nix wood-look tile flooring, 8 by 32 inches, and Shimmer Abalone backsplash tile, 1 by 4 inches: Arizona Tile; TMD24JS microwave: Thermador; also on the team: Jake Laurie and Rick Clarke (design consultants) and Ian Nanson (project manager) of Marrokal Design & Remodeling, and Milan Kovacevic (photographer)
See more of this home